Italy Diary - 22 Day Globus Tour - Page 2
June 1999
by Kathi and Wayne Jacobs
Copyright 2018 VITA Digital Productions - All Rights Reserved
Day 4 - Thursday, June 24, 1999 - Rome to Pisa to Florence:
Up early and to breakfast in the hotel dining room. Because we are leaving Rome today and traveling to Florence, our bags have to be packed and outside our room by 7:00 AM. Around 7:30, our tour bus leaves Rome for our drive north. Following the coastal highway, we drive by the city of Civitavecchia. To our left across the water, we can see the island of Elba, where Napoleon was exiled and almost certainly poisoned. After stopping at an "AutoGrill" (a chain of poorly organized cafeterias which we would learn to hate) for coffee, our tour bus eventually arrives in Pisa where we make a short stop.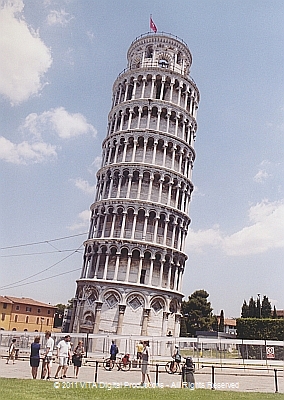 Pisa and its Leaning Tower are a disappointment for both Kathi and me. Surrounded by souvenir stalls and hundreds of tourists, they are too commercialized and lack the quiet dignity I feel they deserve. The only pleasant part about our visit to Pisa is that Kathi encounters two friends who had been with her on her trip to Greece three years earlier and a few weeks before she and I met. Kathi introduces me to them and I take Kathi's picture with them. Kathi and I have a gelato before leaving Pisa. We get back on our tour bus for the drive to Florence.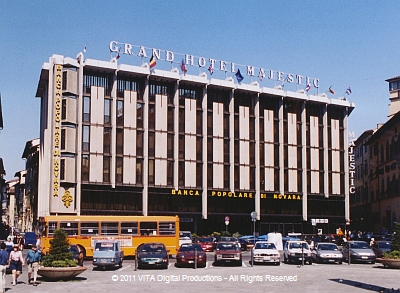 After a short ride, we arrive in Florence and find our hotel. The Majestic on the Via Del Melarancio is wonderful, not only because of its elegance and marbled bathroom, but its location; within walking distance of everything we will wish to see in Florence. As soon as we can check in, we find our room and leave the hotel for a walking tour of Florence. Walking a few blocks, Kathi and I suddenly find ourselves in front of the famous Cathedral of Florence or Duomo, the Santa Maria Del Fiore, and Giotto's Bell Tower along with the eight-sided Baptistry with its famous bronze doors - the "Gates of Paradise" by Ghiberti. As we stand there, in awe of the scene before us, the bell from Giotto's Tower chimes 5:00 PM.
Many of the city streets are closed to traffic and filled with pedestrians. As we stroll we pass hawkers selling their wares spread out on cloths on the bare pavement, we turn and see a polizia car driving toward us on the closed off street, pedestrians parting before it. The hawkers quickly gather up their wares, grabbing the cloths by the corners and walking quickly away, acting nonchalant as the polizia drive by. The polizia obviously know what's going on -- it's all just a game with both groups. The hawkers pretend that they are not selling when the police drive by and the police pretend they don't know that there are hawkers selling illegally. Moreover, during the coming weeks in Italy, we realize the laws in Italy are merely "suggestions." Stop signs (which actually say "STOP" oddly enough - even in Italian) are also merely suggestions and most drivers ignore them. And the white lines delineating lanes in the streets are completely useless -- no one follows them. The cars, as often as not, drive so that they actually straddle the white lines.
Italian drivers, we are surprised to discover, are fearless but amazingly precise -- in all of our twenty-two days in Italy, we see only one accident and that one is here in Florence. But we regularly watch in awe (and a little terror) as Italian drivers navigate madly between cars and buses with only inches to spare and then stop abruptly only inches away from another car or bus. And the motorcyclists and Vespa drivers are even more daring, if that can be imagined, weaving in, out and between lanes of traffic, at stoplights filling in every empty space available on the pavement (and sometimes even the sidewalks).
Of course, all this frenzied driving does lead to disputes, and we sometimes watch from our tour bus as drivers argue, arms flapping in the air, about some disagreement over their driving. Italians can't seem to talk without using their hands and arms as punctuation devices. Continuing our afternoon walk in the streets of Florence, Kathi lags behind, first window shopping and later, entering a shop which has large "Going Out of Business" signs posted. I continue on, taking the Steadicam down the street, videotaping as I go.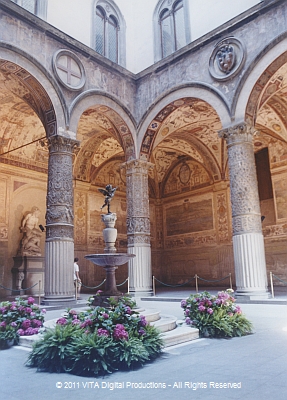 At the end of the street, I turn a corner and enter the expansive and beautiful "Piazza della Signoria," filled with massive statues and onlookers. I turn around quickly and return to get Kathi, excited to show her my discovery. As I arrive at the shop, Kathi is coming out the door and I quickly ask her to follow me, stating only that I have something to show her. As we walk back to the Piazza, with Kathi a few steps behind, I turn the video camera backwards toward her, wanting to get her reaction when she first sees the wonderful Piazza and its statuary. And I'm not disappointed. She is amazed as she enters the Piazza for the first time, stopping at each of the large modern statues on display. She likes one more than the others, El Gato, a large, fat cat. At the other end of the Piazza, we see the Palazzo Vecchio with the copy of Michelangelo's David outside. Walking across the Piazza, Kathi and I enter the Palazzo Vecchio and are pleasantly surprised at the beautiful ceilings and sculptures which we find inside.
Twenty minutes later, as we leave the Palazzo Vecchio I discover a Dutch television camera crew outside filming and using a large professional model of the Steadicam. As the cameraman is hooking up the Steadicam to his steel and leather chest harness, I go over and point out to Kathi the word, "Steadicam" on his chest and, in turn, show him the same word on my little Steadicam, Junior. He smiles acknowledgment - we're brothers, linked by our unique equipment. He and an assistant climb over a railing and begin to shoot video of the famous Fountains of Neptune outside of the Palazzo Vecchio. As he and his assistant walk to get a moving shot of the fountains, I follow him but outside of the railing. I'm shooting him shooting the fountains. We both do this a couple of times until the polizia arrive and stop him. As near as I can determine, the polizia are telling him that he does not have the proper permits which would allow him to cross over the railing around the fountain. He climbs back over the rail and continues shooting but this time, well outside of the forbidden area. We are surprised to see demonstrated how meticulously Italian polizi enforce some regulations and yet ignore many of the others. Kathi and I leave the piazza and walk back to our hotel in order to get ready for supper.
Dinner tonight is in the hotel's dining room. We join Lanie, Peter, Elayne, and Gloria at their table and get to know more about our new friends. Elayne tells us about her unique part-time job, giving educational talks on cruises. She gives one or two one hour lectures on the historical and cultural significance of an upcoming port and, in return, gets to enjoy the entire cruise for free.
After dinner, Kathi and I return to the streets of Florence, wandering through the wonderful maze of avenues and alleyways, all crowded with thousands of strollers like us. We chance upon Karen and Frank while watching two street performers and converse with them for a while. Later, while walking in another little street, Kathi and I hear the sound of fireworks in the distance. Walking quickly in the direction of the explosions, we finally arrive at the river Arno in time to view some of the pyrotechnic display. Afterwards, as we are walking back to the hotel, I am still filming with the Steadicam. From across the street, I hear a young man call out in an Italian accent, "Steady?" to which I respond, "Yes."
Day 5 - Friday, June 25, 1999 - Florence:
Breakfast at 7:00 AM in the hotel dining room. Then we leave for our drive to the Galleria dell' Accademia and one of the highlights of our trip, experiencing Michelangelo's magnificent "David." Leaving our tour bus, we meet our guide, Leah, and we all walk the four or five blocks to the Galleria dell' Accademia.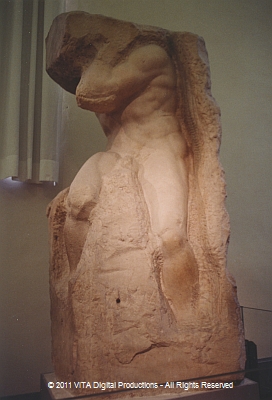 Our guide books state that there is frequently a wait of several hours to see "The David" as the statue is more commonly known, but, at 8:30 AM, we walk right in - another case where Vincenzo's vigilance in keeping us to a tight schedule pays off. We enter a small hallway, turn right and there he is, at the end of a long corridor. Along both sides of the corridor are displayed Michelangelo's "The Prisoners," unfinished sculptures with figures symbolically struggling to get out of their blocks of marble. They are surprisingly inspiring but again and again we find our attention drawn to the massive sculpture at the end of the corridor, "The David." Our guide is explaining the background of "The Prisoners" but, as usual, I leave the group and begin videotaping on my own.
After shooting "The Prisoners," I start photographing "The David." I am amazed by its emotional impact. It is big, but I expected that, -- but what I didn't expect was its perfection. The detail is amazing; well-defined muscles and blood vessels are exactly where they should be, his right hand perfect in its detail. One could easily imagine that Michelangelo just laid down his tools a few minutes ago and that there are still marble chips at its base. There's no apparent evidence that this sculpture was outside in the Piazza della Signoria, exposed to the elements for over three hundred years before being brought inside to this protected location. Its surface appears smooth and polished as if new. I turn around to discover Kathi standing there, looking up at "The David," with an incredible smile on her face and tears in her eyes, as if mesmerized, attempting to grasp the emotion of this moment.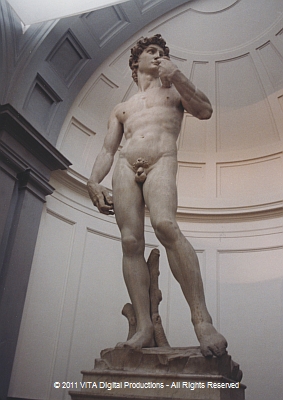 I find it surprising that photography, both video and still, is permitted in the Galleria dell' Accademia, with the one stipulation of no electronic flash. Warning signs, with the international symbol of the red circle and diagonal bar over a camera with flash, are posted everywhere. Nevertheless, guards constantly have to tell people to stop using the flash on their cameras. During the thirty minutes we were there, a flash went off an average of once every 30 seconds with a guard hurrying over to motion "No" to each offending photographer. I have to assume that most people did not know how to turn off or defeat the electronic flash on their cameras and took the photographs anyway, knowing that nothing but a warning would ensue. But after thirty minutes of almost constant flashes, I was left with the impression that these were rude, uncaring, and stupid people.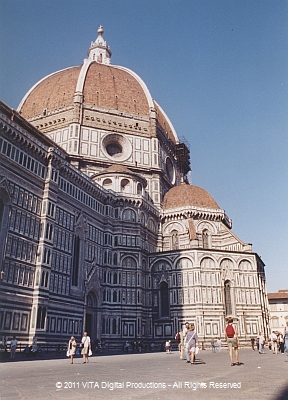 Leaving the Galleria dell' Accademia, we walk several blocks to the famous Duomo.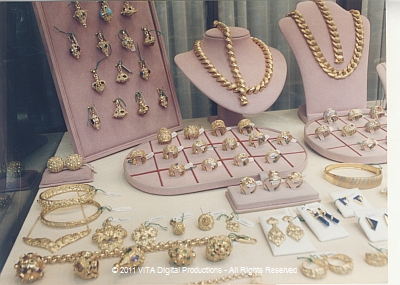 Next, we walk several more blocks to tour a leather factory. But instead of taking the leather factory tour, Kathi and I decide to visit some gold shops in hopes of finding wedding rings for both of us. We ask Vincenzo for a recommendation and he gives us the names of two jewelry stores to check out. The first one was just a block away so Kathi and I walked straight to it. Once there, Kathi describes to a very nice sales clerk what she is looking for, and the saleslady promptly shows us some lovely rings. Kathi immediately focuses her attention on a unique faceted gold dome ring. She fell in love with the ring for several reasons, one of which is the appropriateness of selecting a domed wedding ring in Florence, a city famous for Brunelleschi's dome over the Duomo. I, in turn, select a beautiful tricolor wedding ring with spiraling bands of rose, white and yellow gold. But logic and experience tell us not to buy the first thing we see; we must look at other gold shops before making such an important decision. We tell our clerk that, although we are sure we'll return to purchase these two rings, we must visit some other stores before deciding and we leave. We enter the other gold shop which Vincenzo has recommended and quickly conclude that they have nothing as beautiful (or as unique) as the previous shop. Returning, we make our purchases, I pay for Kathi's ring and she pays for mine, and arrange for the rings to be sized and picked up later that afternoon. We've done it - we've purchased our wedding rings and I haven't even officially proposed to Kathi - that will come later in Venice. (Ten years later we will return to the same jewelry shop in Florence to purchase a matching necklace for Kathi.)
We hurry out of the store, excited to tell someone in our group what we've done and run right into Frank and Karen. When we tell them about the store, Kathi wants to return and show them the ring she has selected. Once inside, Frank decides to purchase a gold chain for himself. The four of us return to the leather factory where other members of our group are in the process of leaving. Excitedly, we tell them of our purchases.
We return to our hotel room for a picnic lunch of sandwiches made from rolls and ham, made at breakfast earlier today - a tip I learned reading "The Great Bicycle Expedition" by William C. Anderson, over 25 years earlier. After finishing our lunch, we return to the streets of Florence. Walking down a little alleyway, Kathi and I enter a quaint looking little shop. It turns out to be a combination hardware and grocery store. While I examine the selection of hardware and gadgets, Kathi looks over the selection of foodstuffs and selects a package of tea for a friend back in the states.
We enter a little shop looking for a print for Kathi's friend, Beth. I discover a large assortment of 360 degree panoramic post cards of the city and select a few of the best ones. Kathi chooses a beautiful print of the Duomo for Beth and a calendar with photographs of the Sistine Chapel for her new office.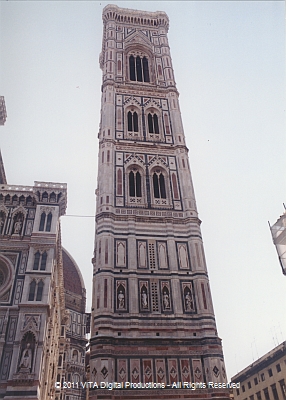 Kathi insists that we are going to climb to the top of Giotto's Campanile (bell tower), even though it's over 300 steps up (and 300 down). We purchase our tickets and start our ascent. At several places while we are still climbing upward, we stop and look out the beautiful stone window openings. About two-thirds of the way up, we come to the bell chamber, a large open area with expansive open windows. Finally we arrive at the top of the bell tower. The walkway around the tower has stone blocks up to your chest with steel wire, recently installed, covering both the sides and the top, making it impossible for anyone to jump from this height. One has to wonder if someone has, in fact, jumped from the top of this tower before the steel wire was installed? I busily take my video and photos of Florence (which is spread out below me).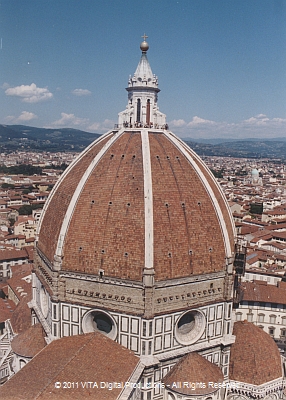 Then I turn my attention to Brunelleschi's dome over the Duomo, of which Michelangelo once said, "I can build a dome bigger, but I can't build one more beautiful." We are on the same level as the top of the dome, right across from us. We can see the large holes which Brunelleschi (the first important architect of the Italian Renaissance) used to hold the scaffolding poles while the dome was being constructed over 500 years ago.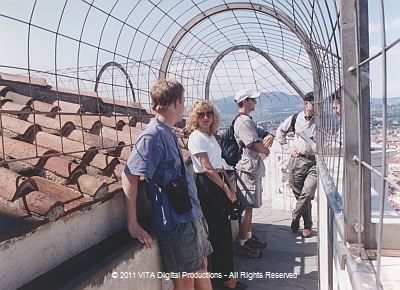 As I continue to photograph this incredible view, Kathi hears what appears to be familiar American accents. She introduces herself and me to the other tourists and is pleased to discover that all 6 of us who are currently at the top of Giotto's Bell Tower in Florence, Italy, either were born or educated in Virginia. What a wonderful coincidence and, as they say, a small world.
Kathi and I return to the Jewelers to pick up our rings after resizing. They are both perfect. Stuffing them into a safe place in my money belt, we leave the store. Just outside of the jewelers' shop is the Church of Santa Croce which contains the tombs of Michelangelo and Galileo. Kathi and I enter the church for a quick look at the interior. After leaving the Church, we walk towards the Ponte Vecchio. I consult my map but things aren't as clear as they should be. Eventually, with a little luck, we find ourselves beside the Arno River. From there it is not difficult to find the Ponte Vecchio which crosses the Arno, of course.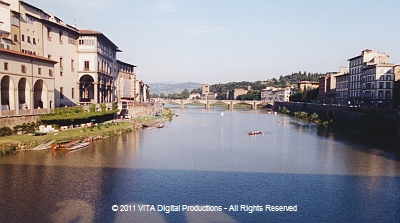 On our walk, Kathi and I enjoy watching some boaters crewing in the river. Arriving at the Ponte Vecchio, we find it crowded with people - it is, after all, one of the most famous tourist sites in all of Florence. Kathi is fascinated with the gold jewelry displayed in the goldsmiths' shops which line both sides of the ancient bridge. The Ponte Vecchio was the only bridge not destroyed by the Germans during World War II. All of the other bridges were destroyed by dynamite. Today, rebuilt bridges stand where they once stood, but, unlike the Ponte Vecchio, are not the originals. While Kathi window shops, I continue on ahead photographing. When I return and find Kathi, she tells me that she has not found anything as beautiful as her ring which we purchased earlier today.
Before leaving the Ponte Vecchio, I fill my water bottle at a fountain in the middle of the bridge. Water is a precious commodity in Italy - one usually has to purchase bottles of water and it doesn't come cheap. In addition, one must be careful of not accidentally getting a bottle of "Gas" - carbonated (ugh!) bottled water which is popular all over Italy. Therefore, I must remember to state "No gas" when requesting bottled water. On our walk back to the hotel, Kathi and I stop at a small restaurant for dinner.
Around 7 PM, Kathi and I visit the Uffizi Palace Art Gallery. We know when we enter the Uffizi that closing time is around 8:00 and that we wouldn't have much time to see this world famous art gallery, but decide to try to see as much as possible in our limited time in Florence. This is another of those attractions where a long line is usual but we walk right in with no waiting. We walk briskly through the corridors and galleries, stopping from time to time to view a particular sculpture or painting. We see many very famous paintings at the Uffizi. I videotape the entire hour we were there -- in addition to the Steadicam, Junior, another asset which I brought on this trip was the two new nickel-halide batteries for my camcorder. They each last 3 full hours so I never have to worry about running out of battery power, no matter how long I videotape. Leaving the Uffizi, we watch as guests arrive for a fashion show in the courtyard adjacent to the gallery. Italians, dressed to the "nines," enjoy proscuitto ham and other treats, chat and pose for cameras - ah, la Dolce Vita.
Copyright 2018 Virtual Interactive Tours Abroad, Inc. - All Rights Reserved