Italy Diary - 22 Day Globus Tour - Page 1
June 1999
by Kathi and Wayne Jacobs
Copyright 2018 VITA Digital Productions - All Rights Reserved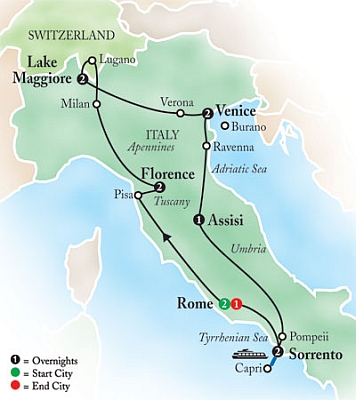 NOTE: Since this was Kathi's and my first trip together to Italy, we decided to take a comprehensive tour as part of a group. After a good deal of research, we chose the Globus Italian Mosaic Tour (which is still available from Globus - click on the map to view current offering). We thought that this tour would not only give us the best value for our money but that it would also give us a good introduction to many different regions of Italy.
Beginning in Rome, our itinerary would next take us northward into Tuscany: through Milan and into the northwestern region (known as the Lake District); across the border for a brief foray into Switzerland; then back into Italy and heading east to Venice; due south to Assisi, forever associated with St. Francis; on to the Amalfi coast, using Sorrento as our base; and then returning us to Rome for the flight home. To that itinerary we added a 5 day extension in Sorrento (to explore the Amalfi Coast), followed by a 3 day extension in Rome.
Nineteen years later looking back on this trip, we feel strongly that the Globus Tour was good value for our money and an excellent way to introduce Italy to first time visitors. We would recommend it.
Day 1 - Monday, June 21, 1999 - Home to Raleigh to New York City to Rome:
Around 9:30 AM, we left home to drive to the Raleigh Airport for our 3 PM flight to New York City - the first leg of our 12 day Globus Italian Mosaic Tour with two extensions.
Around 3:45 PM, our flight leaves (around 40 minutes late) for JFK airport in New York City - flying time "one hour and fifteen minutes." Arriving at 4:40 PM at JFK, we walk from one end of Delta's terminal to the other, finally finding gate 25 where our flight to Rome is scheduled to leave at 8:30 PM. I have with me a friend's Steadicam Jr. which I have rented for a month. I wanted to take steadier home movies while in Italy for the next 3 weeks. It will prove to be a wise addition to my videotaping (and will ultimately change Kathi's and my life). While waiting for 8:30 PM to arrive, we read our guidebooks preparing ourselves for Rome and Italy. At 7:40 PM passengers start boarding the plane. We get on rather quickly since they start boarding from the front of the plane.
Once on the plane, Kathi and I settle in with copies of the New York Times and of Il Tempo, an Italian newspaper. The plane taxis out at 8:15 PM and at 8:25 our plane takes off; "We're going to Italy!" Our pilot announces that our flight time is seven hours twenty six minutes to Rome and he predicts our arrival to be 30 minutes early. At 9:00 PM the flight attendants start serving dinner. At 10:45, we're finished with dinner and the movie, "Shakespeare in Love," begins. The overhead TV monitors state that our ground speed is 563 miles per hour (we eventually reach 597 mph), our altitude 35,000 feet, and our estimated arrival time is 10:01 AM. Before falling asleep, we take our sleeping pills for the long night ahead and I read my 40+ pages of experiences, warnings, etc., which I have downloaded from Rick Steves' (Europe Through the Back Door) web page. It is full of horror stories of gypsies, pickpockets and tourist traps in Italy. I must be on guard and prepared. I study and then highlight for Kathi some of the most typical practices to be on watch for. She never gets time to read my selections.
One of the most notorious tourist traps I discover is the infamous "Bus 64" in Rome and its legendary pickpockets. It is known to locals as the "Pickpocket Express." Little did I know at the time, but I would encounter both Bus 64 and one of its illustrious pickpockets before our tour of Italy ended! Excited but sleepy, I put my notes away and attempt to get some sleep. I have my sleep mask on and it works well, and I eventually fall asleep for a short period of time in the cramped seats. I wake up long enough to see that our flight plan will take us almost directly over Paris.
Day 2 - Tuesday, June 22, 1999 - Rome:
It is 8:38 AM Rome time (2:38 AM Eastern Daylight Savings Time) and breakfast ( a croissant with butter and apple cinnamon jelly, fresh fruit, coffee and orange juice) is being served on the plane while I watch CNN on the overhead TV. We are put into a holding pattern around the Rome airport and therefore lose most of the 30 minutes early arrival we were scheduled to get. Arriving at Fiumicino Airport at 10:25 AM, we deplane and go through the usual security and immigration checkpoints. We look for and find the Globus representative and are told to wait in an area with other Globus passengers. Around 12:45 PM we get on our tour bus which takes us about 20 miles to our hotel on the outskirts of Rome, the Jolly Midas on Via Aurellia.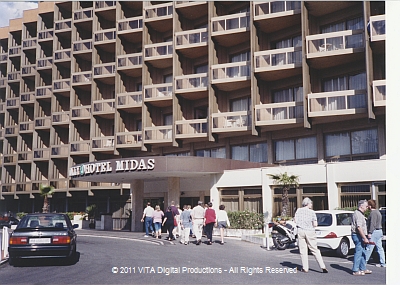 At 1:35 PM we check into room 748; it's very nice with a balcony overlooking the Via Aurellia. Kathi and I walk around the hotel which has jasmine and bougainvillea in flower; it's 70 degrees, the wind is blowing gently, and it's perfect. We then walk down the hill to the grocery/department store called "Panorama" which is located a short distance below the hotel. The combination grocery and clothing store has lots of fresh fish, fresh meat, a pizza stand, lots of carry out desserts and a large selection of fruits and vegetables. There we purchase hot pizza for two (2,500 Lire) and use our Italian for the first time. Since Kathi and I have booked a 5 day trip extension in Sorrento at the end of the 12 day tour, followed by a 3 day extension in Rome, we took a Conversational Italian course at the local community college.
At 2:37 PM we're back in our room. The Via Aurellia below is a busy 4 lane expressway. In the distance we can see the top of St. Peter's Basilica. At 4:30 PM our group gets on the tour bus for an orientation meeting with our tour guide who tells us about procedures, what to expect, etc. Afterward we meet and talk with a couple from California, Karen and Frank, who will also be staying in Sorrento with us at the end of the tour.
I, of course, have to sample Italian television and it is quite a change. There are two channels in English: CNN International from the US and SKY TV from Great Britain; the remaining channels are mostly Italian with a few German and French ones. Later I would discover that topless ladies are not unusual late at night on Italian TV.
At 6:35 PM, we go downstairs to leave for our "Welcome to Italy" dinner. Our tour guide, Vincenzo, is an older man who has obviously led these tours for many years. After we file onto our motor coach and meet our driver, Pierro, we wait 5 or 10 minutes for an older couple (later to become our friends) to arrive. Our tour guide tells them in a surprisingly stern way that tardiness will not be tolerated. As the tour progresses we come to respect and appreciate Vincenzo's strict schedule - it helps us to arrive first at many of the busy tourist sights, ahead of the other tour buses.
We then leave for the drive through Rome to our restaurant for the "Welcome to Rome" dinner, and I get my first look at Rome. There are scaffolds covering the fronts of public buildings everywhere. We learn that work is being done all over Italy for the Pope's Jubilee celebration to be held in conjunction with the millennium.
Arriving at our destination, we exit the bus and walk about three blocks through a mixed residential and business district in the city. Finally we get to our restaurant, the Mangrovia, and our group goes upstairs and into a private dining room. Kathi and I are seated across from a nice family of four from Connecticut.
Our waiter serves us wine and our antipasto, cantaloupe wrapped with proscuitto ham. Three other courses follow and they are delicious. Finally dessert and coffee are served.
All during our meal two male singers serenade us with Italian songs. While Kathi is busy talking to Tony, I lean over and ask them to sing "Al di La," a song from the film "Rome Adventure" which we had just watched before leaving for Italy.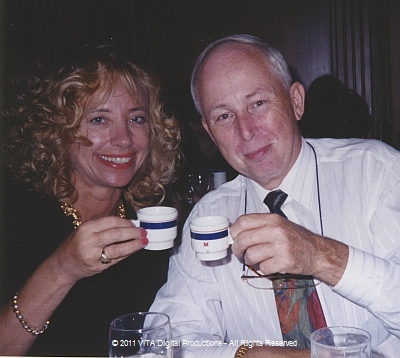 At the end of the evening, the waiters bring a single long-stemmed yellow rose for each of the ladies in our group. Kathi describes the evening as "molto bene." We walk back to our tour bus with the beginnings of newly-formed friendships and drive through a brightly lit Rome, returning to our hotel around 10 PM. What a memorable day.
Day 3 - Wednesday, June 23, 1999 - Rome:
Up at 6:30 for an early breakfast in the hotel's dining room: croissants, danishes, butter, jellies, orange juice, coffee, hard rolls, sliced boiled ham - it's quite delicious. Then down to our tour bus for our drive into Rome. It's 7:28 AM; Kathi and I are the first ones on the bus so we naturally pick the front seat directly behind the driver. Our drive into the center of the city introduces us to Rome at rush hour. Traffic is hectic with Vespas (Italy's little motor scooters) darting past the tour bus on both sides and, at stoplights, squeezing into every available nook and cranny. Undaunted, our driver, Pierro, expertly maneuvers our massive tour bus through the heavy traffic and small streets. Exiting the bus we meet our Rome tour guide, Manlio. He will guide us through the Vatican Museum and later in the day, the Roman Forum and Coliseum. We walk four blocks to the entrance of the Vatican Museums, arriving about 8:30 AM. Manlio gives us our tickets and we enter the building and walk up an amazing double spiral ramp and out into a courtyard where he gives a talk about the Museums, their treasures and the famous Sistine Chapel. While he does this, I videotape and take photos of the courtyard.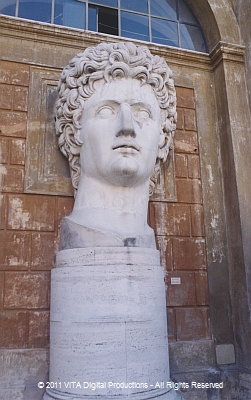 I have read in one of my tour books that in the summer, the Pope usually gives an audience around 11 AM on Wednesdays. I imagine what a wonderful opportunity it would be to actually see the Pope. During the morning our new friends, Harold and Margaret from Louisiana, mention to us that they want to attend the Pope's address this morning, too. Harold tells us that they've asked around and everyone they've talked with has given them a different time for the Pope's address; some say 11 AM, some say 10:30, some even say as early as 9 AM. And, there is a good possibility that his address will be canceled if he is not feeling well. (He has just returned from a trip to Poland where, due to poor health, he canceled a mass with several million people waiting.) If we four are going to try to attend the audience, we'll have to leave the Vatican Museum tour early and walk almost a mile to St. Peter's Square. Should we attempt it when we don't have any assurance that the Pope will even be there? And if he is there, what time will it start?
Kathi doesn't want to leave the tour, as there are wonderful things to see and she could easily spend several days in the Vatican Museums and not see it all. But I tell Kathi that this is a chance in a lifetime: a chance to see the Pope. I explain to her that when the Pope comes to Mexico, or Poland, millions of people come from far and near to see him. And some of those people are so far back in the crowd that they don't actually get to see him. In addition, I mention that he's old and infirm and this will certainly be our only chance to see John Paul II. Finally I convince her, and we leave the tour around 9:37 AM. With Harold in the lead, we hurriedly walk (almost run) through the halls of the Museum to find an exit.
The Museum is designed so that there is only one pathway through it and there are no shortcuts out to the street. So we must go through endless corridors - all with wonderful statues that beg to be viewed at leisure - but no time for that! Every time we turn a corner and enter a new corridor, Kathi's doubts as to whether we're making the correct choice return to her and she hesitates. But I try to reassure her, telling her that she and I will have another chance to visit these museums when we return to Rome on the extension at the end of our trip. While I promise her that we will return, I realize that if the Pope doesn't show up, I have made a serious mistake. I certainly hope I'm right. The four of us finally arrive in the Sistine Chapel and we pause for 3 minutes to stare up at the magnificent ceiling by Michelangelo. Then, we're out into the street wondering how to get to St. Peter's Square.
We decide to follow the Vatican wall and hope that it will eventually lead us to St. Peter's Square. Walking quickly, almost running, we pass vendors selling miniature "Pietas," sweatshirts, umbrellas, postcards, etc. After about 15 minutes we arrive at the entrance to St. Peter's Square just in time to hear the last few bars of "Pomp and Circumstance" followed by a voice over the public address system introducing the Pope in various languages. We've made it in time to hear the Pope's address! And there, under the large red papal canopy, we can just make out the figure of a man in white robes seated - the Pope himself. After the greetings and introductions are finished, the microphone stand is moved in front of the Pope and we can hear him inhale and he begins to speak - in Italian, of course. He speaks for 20 minutes and although we know very little Italian, Kathi and I are pleased to discover that we can understand some of what he is saying.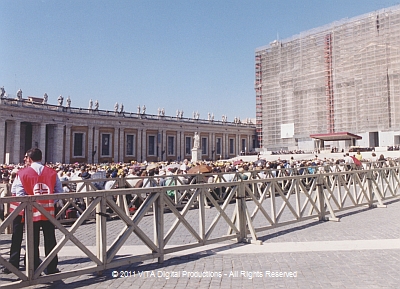 What a wonderful and memorable experience… I remove my wide angle lens attachment from my camcorder so that I can zoom in on the Pope as much as possible. Kathi and I are deeply moved listening to the Pope's words and we can actually see him too.
At around 10:20, after the Pope completes his address, we leave St. Peter's Square and hurriedly walk back to the entrance to the Vatican Museums and rejoin our tour group as they leave around 10:40 AM.
As Manlio talks, our tour bus takes us through the heart of Rome, past the Victor Emmanuel Monument which holds special meaning for Kathi, past the balcony where Mussolini made his addresses to the Italian people during World War II, and on to the Roman Forum and Coliseum. At the Roman Forum, we walk along the Via Sacra and I videotape and take photographs while Manlio talks to the tour group.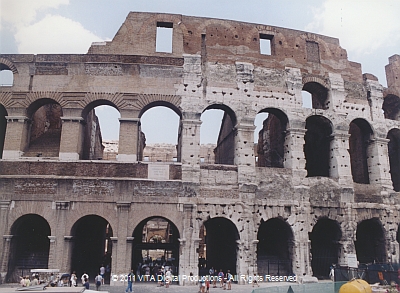 Next, around 11:55 AM, we walk to the Coliseum where again I photograph and videotape. While here Kathi purchases two gelatos from a small stand (Kathi, chocolate, and me, vanilla) for 10,000 Lire and afterwards is convinced that she had been overcharged (but later decides that she had not). I purchase a watercolor print from a street vendor for 5,000 Lire and some postcards for 1,000 Lire. We stop to pet some cats that inhabit the Coliseum before seeing more of Rome, and at 1:03 PM, we get off the bus to enter St. Peter's Basilica, the largest church in the world. After leaving the Basilica, we stop to let Manlio off and most of us give him tips for his excellent work. We then return to our hotel for the remainder of the afternoon.
At 3:15 PM, Kathi and I again walk down to the supermarket at the bottom of the hill below the hotel where we purchase four 1.5 liter cokes, a 1.5 liter bottle of water, and a box of Ritz crackers which we take back to our room (I have brought with me from the US a small jar of peanut butter - believing that it would be impossible to find it in Italy). The selection of foods is certainly different than those found in the US. There are some fruits and vegetables that I am unable to identify. Returning to our hotel room, I watch Italian TV while Kathi writes a few postcards to friends and attempts to catch up on her journal.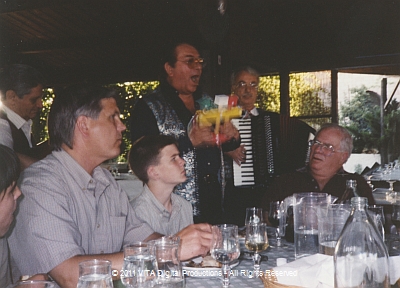 Around 4:25 PM, dressed for dinner, we leave on the tour bus for our trip to Castel Gondolpho (where the Pope has his summer residence) and then on to our quaint country restaurant for dinner. We first pass through Rome, then the outskirts of the city, and finally out into the countryside, at one point traveling on a portion of the famous Appian Way. Vincenzo has promised that this dinner will be memorable both for its setting and its food - and afterwards, I have to agree with him. Our group is seated outside at two long tables under a grape arbor and our dinner begins with antipasto, followed by delicious fresh pasta, and a main course, followed by insalata mista, and dessert and coffee.
All throughout our meal, several musicians and a singer entertain us and I, of course, request the song, "Al di La," for Kathi. Later, our new friends from California have an opportunity to visit the kitchen to see how the tomato sauce for the pasta was prepared. Then the four of us take a walk in the vineyards at sunset (which comes quite late on a summer night in Italy) - a magical evening. Before leaving the restaurant, I purchase a copy of the singer's CD. Around 10:30 PM, we arrive back at our hotel.
Copyright 2018 Virtual Interactive Tours Abroad, Inc. - All Rights Reserved